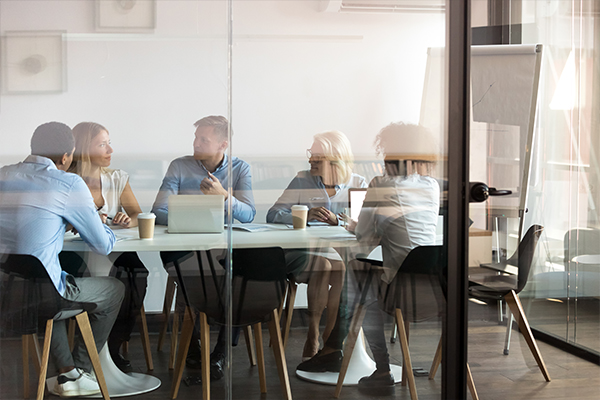 Transform Your Workplace for Seamless Collaboration
In today's fast-paced business landscape, the synergy between unified communications and a robust workplace network is paramount. Enterprises, educational institutions, and government agencies require advanced audio and video upgrades to support face-to-face video collaborations and meetings, especially for dispersed teams and hybrid workforces.  
Audio/Video Conferencing Solutions
ByteBridge provides cutting-edge A/V conferencing solutions that seamlessly integrate with your workplace network. These solutions ensure high-quality, crystal-clear communication for all your virtual meetings and collaborations, enabling your teams to connect effortlessly, no matter where they are in the world. 
Workplace Productivity Platforms
Elevate productivity with our comprehensive workplace productivity platforms. We offer tools and technologies that empower your workforce to work efficiently, share knowledge, and collaborate in real-time, fostering innovation and driving your organization's success. 
Wireless, Networking and Security
ByteBridge's advanced wireless networking solutions optimize your workplace network infrastructure. Our experts design and implement robust wireless networks that provide reliable connectivity, flexibility, and scalability, supporting the increasing demands of unified communications and modern work environments. Our measures ensure that your organization operates securely, guarding against threats and safeguarding sensitive information. 
We specialize in designing and implementing low voltage systems that enhance your workplace environment. From structured cabling to energy-efficient lighting, our solutions are tailored to enhance efficiency, reduce costs, and improve overall workplace functionality. 
Seize the Future of Workplace Communication and Collaboration with ByteBridge
In a landscape where connectivity is the lifeline of modern organizations, our Workplace Unified Communications & Networks solutions empower you to thrive. As your dedicated partner, we are committed to delivering the highest value from your technology investments. 
Discover how our A/V solutions and workplace network enhancements can revolutionize your organization's communication and collaboration capabilities. Create a workplace environment that's ready for the challenges and opportunities of the digital age with ByteBridge!